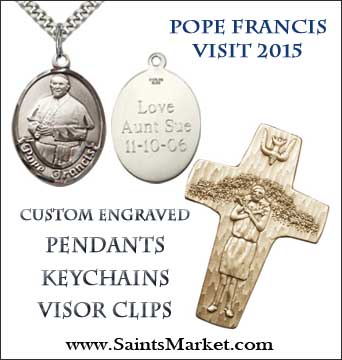 CLICK HERE:
Saints Market
Catholic Store: Saint Jewelry – Medals – Rosaries
Pope Francis made his intention to travel to the United States for the 2015 World Meeting of Families. . . public on November 17, 2014, in an address to the Colloquium on the Complementarity of Man and Woman at the Vatican.
Archbishop Joseph E. Kurtz, president of the United States Conference of Catholic Bishops welcomed the news.
Papal Visit
Media Credentialing Information
"The presence of Pope Francis at the World Meeting of Families in our country will be a joyful moment for millions of Catholics and people of good will. Our great hope has been that the Holy Father would visit us next year to inspire our families in their mission of love. It is a blessing to hear the pope himself announce the much anticipated news," said Archbishop Kurtz.
While details of the pope's itinerary may not be available until midsummer, here are the dates and events that have been announced so far:
Washington, DC
September 24: Address to Joint Session of United States Congress
New York, NY
September 25: United Nations General Assembly Address
FROM CATHOLIC NEWS SERVICE
President, First Lady to Welcome Pope Francis to White House September 23
By Catholic News Service
WASHINGTON (CNS) — President Barack Obama and first lady Michelle Obama will welcome Pope Francis to the White House Sept. 23.
"During the visit, the president and the pope will continue the dialogue, which they began during the president's visit to the Vatican in March 2014, on their shared values and commitments on a wide range of issues," said a statement released March 26 by the Office of the Press Secretary at the White House.
Those issues, it said, include "caring for the marginalized and the poor; advancing economic opportunity for all; serving as good stewards of the environment; protecting religious minorities and promoting religious freedom around the world; and welcoming and integrating immigrants and refugees into our communities."
The statement added, "The president looks forward to continuing this conversation with the Holy Father during his first visit to the United States as pope."
Last year, in their first encounter, Pope Francis received the president at the Vatican for a discussion that touched on several areas of tension between the Catholic Church and the White House, including religious freedom and medical ethics.
During an unusually long 50-minute meeting, the two leaders discussed "questions of particular relevance for the church in (the U.S.), such as the exercise of the rights to religious freedom, life and conscientious objection as well as the issue of immigration reform," the Vatican said in statement afterward.
While in Washington, Pope Francis will address a joint meeting of Congress Sept. 24, making him the first pope to do so.
The Archdiocese of Washington said it would host the pope for his visit, but did not announce dates. On his flight from the Philippines to Rome in January, Pope Francis said he would canonize Blessed Junipero Serra at Washington's Basilica of the Shrine of the Immaculate Conception.
On March 18, the United Nations announced Pope Francis will visit there the morning of Sept. 25 to address the U.N. General Assembly. The pope also will meet separately with U.N. Secretary-General Ban Ki-moon and with the president of the General Assembly. The pontiff also is scheduled to a town hall gathering with U.N. staff.
In a statement, Ban noted that the pope's visit came during the United Nations' 70th anniversary, in which its members would make decisions about sustainable development, climate change and peace. He said he was confident the pope's visit would inspire the international community to redouble its efforts for social justice, tolerance and understanding.
The United Nations did not release the detailed itinerary for the meetings, part of a larger papal visit to Washington, New York and Philadelphia. The Vatican is expected to release the official itinerary about two months in advance of the trip, unless local officials release it earlier.
Pope Francis already had announced his participation Sept. 26 and 27 for the World Meeting of Families in Philadelphia.
During his pontificate, St. John Paul II visited the United States seven times — two of which were fuel stopovers — making the country his most frequent foreign destination after his native Poland. He addressed the U.N. General Assembly in 1979 and 1995; Blessed Paul VI did so in 1965 and Pope Benedict XVI addressed the assembly in 2008, during his one U.S. visit as pope.
From: http://www.usccb.org/about/leadership/holy-see/francis/papal-visit-2015/index.cfm/holy_father_life.htm
Posted on CatholicMoms.com web site.
Simplify Your Life This New Year!
If we had any possessions we should be forced to have arms to protect them, since possessions are a cause of disputes and strife, and in many ways we should be hindered from loving God and our neighbor. Therefore, in this life, we wish to have no temporal possessions. – St. Francis of Assisi
 Enrich Your Life!
Simplicity is a spiritual practice that can greatly challenge our way of life and greatly enrich our way of life. St. Francis of Assisi and his followers saw the discipline of simplicity as a garden from which all other spiritual virtues grow. They saw it as an important prerequisite to our being both fully human and fully spiritual. Francis saw wealth and our attachment to possessions as something that enslaves our souls and hinders communion and union with God.
Jesus, at His Sermon on the Mount said: "Do not worry about your life, what you will eat or drink; or about your body, what you will wear. Is not life more important that food, and the body more important than clothes? Look at the birds of the air; they do not sow or reap or store away in barns, and yet your heavenly Father feeds them… And why do you worry about clothes? See how the lilies of the field grow. They do no labor or spin. Yet I tell you that not even Solomon in all his splendor was dressed like one of these. If that is how God clothes the grass of the field, which is here today and tomorrow is thrown into the fire, will he not much more clothe you, O you of little faith?"
Hopefully, with Faith, we can take Jesus at His word. This doesn't mean, get rid of every stitch of clothing you own… that would be very impractical. It means… don't be so concerned. Do you really need 20 pairs of shoes? How about 2 or 3?
Distinguish Between Your Wants and Needs
How do we decide what we really need and what we want? Not all wants are bad… we are spiritual creatures who desire beauty and joy and other intangibles to thrive. What is bad is excessive wants and excessive indulgences.
Here is a simple formula: Food is a need. Specific types of foods cooked specific ways are wants… especially when we become attached to a "certain food" and must have them on a regular basis. Try to remember that food is fuel. Then when you have an occasion of a special meal or special food you will appreciate it all the more.
Clothing is a need, however, designer clothing and only wearing specific brands is a want. Clothing is to provide covering and warmth… not to make a statement (unless it's one of simplicity or modesty).
Moderation
The book of Sirach speaks on moderation: Moderate eating ensures sound slumber and a clear mind next day on rising… In whatever you do, be moderate, and no sickness will befall you.
One way of simplifying your eating may be to Fast one day per week. Jesus fasted. St. Francis fasted and many of the other Saints fasted. There are many physical as well as Spiritual benefits to fasting. Also, food tastes better when we eat it in moderation. Fasting on bread and water helps one to empathize with the hunger of the poor, and it enhances the power of the mind.
Simplify your wardrobe with moderation. Focus on having a few basic outfits that can be modified, instead of having a "crammed full closet" of expensive and hardly worn clothes. If you don't wear them… give them to the poor! Store up your treasure in heaven. Storing clothes for some future event doesn't work… they disintegrate!
"One goes more quickly to heaven from a hut than from a palace." – St. Francis of Assisi
If You Really Love Something… Give It Away!
If you have a favorite item that you have become very attached to… give it away. You will feel such freedom! It is never a good idea to become attached to things. We want to be dependent on God alone. If you can't take it to Heaven… it's probably something you don't really need.
The practice of simplicity is not easy or simple. It is hard to give up things… things you want, things that are sentimental, and things that make your life easier… but the reward will be spiritual closeness to God and freedom.
God's Pruning Shear
"Simplicity is God's pruning shear, which cuts back the tangled branches of our lives, enabling us to begin living freely, sharing generously, and loving deeply." – John Michael Talbot
Pray about simplifying your life. Ask God to show you ways to simplify.
John Michael Talbot suggests the following prayer: "God, give me new eyes to see my life as you see it. And give me a new heart to sense the difference between my wants and my needs. Give me compassion for the suffering of the world and a willingness to help those who are hurting. Amen."
 "The Lessons of St. Francis" by John Michael Talbot inspired this article and can give you more ideas on "How to Bring Simplicity and Spirituality into Your Daily Life".
Have a Blessed New Year! Remember to Simplify and to Pray More!
Renée Winkeljohn
CatholicMoms.com & SaintsMarket.com
[*Copywrited article – please feel free to link to this, but do not copy it without permission.]
During the Four Weeks of Advent We Prepare for the Christ Child
 
Advent is a time to get ready for the Christmas Feast Day. There are many ways to get ready including: prayer, daily devotions, novenas, and fasting. We as Catholics have many helpful tools such as: advent wreaths, nativity scenes, Christmas movies and movies about the Saints, cooking, and decorating our homes.
Prayer Should Increase
During this busy time, it is essential that we set aside a special time for prayer and mediation. Not only is this a very stressful time… but it is easy to lose the meaning of Christmas in all the preparations. Set aside time to pray alone and time to have devotions with your family. An Advent Wreath is a great tool for family devotions. Each week, gather around your wreath and pray… then light one Advent Candle on the wreath. The children will look forward to this devotion and will always remember it.
We can also set up a
Nativity Scene
in our home. Save the baby Jesus and the three Wise men for the appropriate time. On Christmas Day, put baby Jesus in the crèche; on the Feast of Epiphany, put the three Wise men in your Nativity Scene. The Nativity Set can also be used as a devotional tool. Pick readings from the Gospel and read them around the Nativity Set. Let the children arrange the figures accordingly to the verse.
 
Spend Time with Family
Family time is very important during the Advent Season. Cooking, watching movies, playing cards or board games and just spending time together is important. Slow Down! Take the time to enjoy the season. Let the children help decorate the tree. Make a special treat and watch a Christmas Movie. Some of my favorites include: "A Wonderful Life", "Going My Way", "Home Alone", and "The Santa Claus", "The Grinch Who Stole Christmas", "Santa Claus is Coming to Town", and "Rudolph the Red Nosed Reindeer" …. "Shrek the Halls" has a good message about putting up with annoying relatives and family. It's ok to watch movies that are about Santa and other fun holiday things… just make sure that the message is clear about the reason we celebrate this season! Jesus, King of Kings and Lord of Lords is Born!!! Pick out some Nativity movies to watch and mix them in.
 
Decorate Your Home and Make Special Foods
Beautiful things and foods make us love this season. Hang the most beautiful picture of the Holy Family that you can find in a prominent place. Our Catholic Faith is beautiful… take full advantage of it this Christmas Season. Hang greenery and lights… this is a wonderful Celebration! The King is born! Prepare for the King by: setting up a Christmas tree, hanging special decorations, light the outside of your home, at Christmas Dinner use special China, play Christmas music… make sure some of it is religious hymns, light candles and light a special candle for the Christ Child, make special foods, play the piano, think of a special cooking of crafting project to do with your kids or god children.
 
The King is Coming, Prepare for Him!
Visit the Saints Market Catholic Store for More Advent Ideas: Advent Wreaths, Nativity Sets, Saint Nicholas and Holy Family Statues, and Advent Books!
Our Lady of
Mount Carmel
and
the
Brown Scapular

Find Our More About this Beautiful Sacramental and Devotion…
The glory of these forty days we celebrate with songs of praise;
For Christ, by whom all things were made,
Himself has fasted and has prayed.
Alone and fasting Moses saw the loving God who gave the law.
And to Elijah, fasting, came the steeds and chariots of flame.
So Daniel trained his mystic sight, delivered from the lion's might. And John, the Bridegroom's friend, became the herald of Messiah's name.
Then grant us, Lord, like them to be full oft in fast and prayer with Thee;
Our spirits strengthen with Thy grace, and give us joy to see Thy face.
– Pope Gregory the Great
Some text here…